---
Flutolanil is a systemic fungicide for use specifically against basidiomycetes. It inhibits the hyphal growth and infection cushion formation. It is effective against silver scurf, daylily rust, snow mold, yellow patch (R cerealis), southern blight (Sclerotium rolfsii), red thread (Laetisaria fuciformis), fairy ring, all strains of brown patch (Rhizoctonia solani) and even Asian soybean rust (Phakopsora pachyrhizi).
Flutolanil is used in crops such as artichokes, beetroot, Brussel sprouts, etc. It has season-long efficacy when applied to seed potatoes. It can be applied to foliage, to soil, or paddy water and as a seed treatment.
Flutolanil is extremely safe for both crops and operator, as per AgroPages.com. It has a molecular formula of C17H16F3NO2.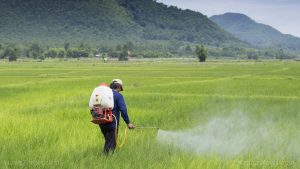 List of known side effects
The U.S. Environmental Protection Agency (EPA) has categorized flutolanil as Group E "Evidence of Non-carcinogenicity for Humans" as per the PubChem online chemistry database. The website also notes that flutolanil is very toxic to aquatic life with long-term effects. Flutolanil has a low aqueous solubility and is persistent in both soils and aquatic systems.
Experimental exposures to flutolanil in animal models have resulted in side effects such as conjunctival redness, increased liver weight, notochord deformation and short body length of larvae. Flutolanil also exhibits estrogenic activities in human breast cancer cells.
Body systems affected by flutolanil
Flutolanil may affect the following body systems:
Body weight
Bone
Brain
Cholesterol
Eye
Liver
Spleen
Thyroid
Based on animal studies, high concentrations of flutolanil residue were found in the adipose tissue and liver, while low concentrations were found in the brain, liver, blood, kidney and fat.
Items that can contain flutolanil
Flutolanil is applied to a range of plants and other crops, such as:
Beetroot
Brussels sprouts
Bulbs
Cabbages
Cereal grains
Cucumbers
Gherkins
Japanese pears
Konjac
Leeks
Lettuce
Peanuts
Pears
Pimientos
Peppers
Potatoes
Rice
Soybeans
Spinach
Sugarbeets
Tomatoes
Wheat
Flutolanil is also used on ornamental turf or lawns, bentgrass, Bermuda grass, Augustine grass, annual bluegrass, perennial grass, annual ryegrass, golf courses, broadleaf evergreen shrubs and trees, ornamental conifers and herbaceous annual plants, among others.
Products that contain flutolanil as an active ingredient include Rhino, Moncut 40SC and Monarch.
How to avoid flutolanil
Avoid products that contain flutolanil as an active ingredient. Handlers, mixers and applicators of flutolanil may be exposed to its fumes in the workplace. The following are some protective measurements in case of contact with or exposure to flutolanil:
Check with the workplace regulations on using respirators during handling of flutolanil. In case of accidental aspiration, leave the area of contamination and go to an open area with fresh air or proper ventilation. Seek medical attention immediately.
Wear a protective suit, chemical-resistant gloves and safety footwear or safety gumboots. Remove any contaminated clothing item carefully, avoiding any contact with the skin. Rinse the contaminated part of the skin with soap and water.
Wearing goggles or a face shield is required before handling any chemical. In case of contact, remove contact lenses (if applicable), then rinse with running water for several minutes. Seek medical help at once.
Do not eat, drink or smoke near this substance. In case of swallowing any amount of flutolanil, give plenty of water to drink. Refer for medical attention immediately.
Refer to the workplace regulations regarding proper handling of equipment before applying chemicals.
Where to learn more
Summary
Flutolanil is a systemic fungicide for use specifically against basidiomycetes.
Flutolanil is used to control a number of fungal pathogens like silver scurf, yellow patch, southern blight, red thread, brown patch and Asian soybean rust.
Sources include: