---
Alachlor is a selective systemic herbicide most commonly used on annual grasses and the broadleaf weeds that grow around peanuts, corns, and soybeans. This chemical works in two ways: first, alachlor impedes a plant's ability to generate proteins essential to its growth; second, alachlor interferes with root elongation.
Alachlor was one of the most widely used herbicides in the United States. Nowadays, however, this herbicide has become a Restricted Use Pesticide (RUP), meaning that only certified applicators can purchase and utilize alachlor. The European Union (EU) has banned the use of alachlor altogether. This is due to the various negative health and environmental effects associated with the application of this chemical.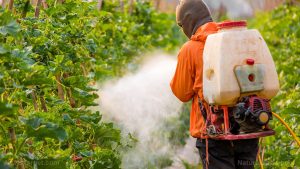 List of known side effects
Alachlor is an active ingredient in Lasso, an herbicide produced by Monsanto that has been linked to at least one health case. In 2012, French grain grower by the name of Paul Francois claimed to have suffered neurological problems after inhaling Lasso. According to Reuters.com, Francois went on record to state that he suffered from headaches, memory loss, and stammering after breathing in Lasso in 2004, and blamed the company for failing to provide the appropriate warnings on the product label. In 2015, a French court found Monsanto liable for Francois' chemical poisoning.
Moreover, alachlor is a potential human carcinogen. Though the exact effects of alachlor remain unknown, it's been confirmed as an animal carcinogen. In particular, numerous studies that made use of lab rats showed that the animals developed gastric, thyroid, and nasal tumors following the consumption of alachlor. In one case, a male lab rat was discovered to have a stomach adenocarcinoma, a type of malignant tumor.
Direct contact with alachlor has led to some people experiencing an allergic skin reaction that progressed into skin sensitization.
Alachlor is not known to be toxic to birds or honeybees. This chemical is, however, moderately toxic to fish and can leave behind long-lasting effects on aquatic organisms. Moreover, alachlor has a tendency to concentrate in the vegetative parts of plants.
Should alachlor come into contact with a source of ignition, then this chemical can emit toxic, corrosive, and/or irritating gases. Furthermore, dousing ignited alachlor with water can lead to toxic runoff that can, in turn, cause pollution.
Body systems affected by alachlor
Based on various animal studies, alachlor has been shown to negatively impact:
Eyes
Kidneys
Liver
Lungs
Skin
Spleen
Items that can contain alachlor
In addition to Lasso, alachlor is known to be an ingredient in various other commercial herbicides, most notably:
Alanex
Bronco
Cannon
Crop Star
Lariat
Partner
Moreover, alachlor is sometimes mixed with other herbicides like Bullet Freedom and Rasta.
How to avoid
As alachlor is no longer widely used, workers are the ones who are most at risk of exposure. The following preventative measures should be to taken in order to minimize this possibility:
While handling alachlor, avoid drinking, eating, or smoking. After handling, make sure to thoroughly wash hands. Contaminated clothing should be cleaned as well prior to re-using.
For storage, keep alachlor in its original container and within a dry, well-ventilated room without any drains or sewer access. Separate this chemical from oxidants, incompatible materials, and foodstuff.
Eye wash facilities and emergency showers should be readily available in the immediate work area. Workers should wear chemical-resistant protective clothing (gloves, googles, coveralls, aprons, etc.) and, if necessary, full-face respirators.
Where to learn more
Summary
Alachlor is an eye, respiratory, and skin irritant, as well as a potential carcinogen. Animals who've been exposed to this material developed tumors across various organ systems.
Sources include: